Not the real Mt Everest
Posted by Doug Morton on Wednesday, 11 May 2016
Mount Everest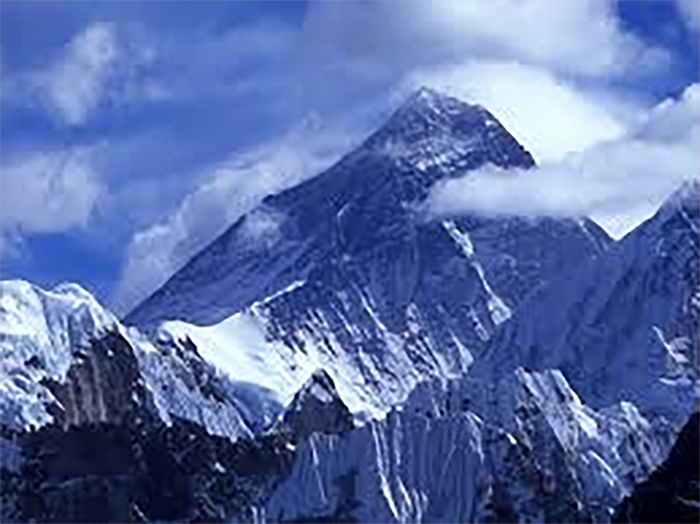 My son Deryk suggested that we all go off to Mount Everest for a weekend. I liked the idea as I'd recently read the story of George Mallory who's now been credited with the first summiting of Everest, and agreed. I knew it was an ambitious undertaking – Nepal is far away – and we hadn't organised a Sherpa or yaks and my crocs, denims and tee-shirts would make me feel the chill near the summit, but decided to go anyway.

"Have you bought the tickets?' I enquired of him, thinking that this was short notice for international travel and the visas, innoculations and passport renewals I'd need. "We'll drive," he said vaguely. "It's only about two and a half hours." My confusion reached epic levels. Then I remembered a road sign I'd seen on a back road near Harrismith in the Free State. Mount Everest. I was relieved and disappointed at the same time.

The house/dogs-sitter arrived early on Friday, and Terri and I had all day to travel two and a half hours. Deryk, Elise and Claire would only leave our bustling city after lunch, so we chose to use the back roads after checking that the Oliviershoek Pass road was Passable. Haha. It was, and with three brief stop-and-go's we arrived at the azure waters of the Sterkfontein Dam which is part of the Gauteng water supply system.





From there it was a short hop to Harrismith where I managed to lose my way in the town and eventually find the Engen complex that must be the most popular food-and-fuel stop on any of our national roads. Armed with toasted bacon-and-egg sarmies we set off for the back roads, travelling slowly and savouring the lovely sun-drenched Autumn colours. Traffic density was about one vehicle per ten minutes, and I was able to stop where I needed to, make U-turns here and there and drive as slowly as I wanted. That's the way I like it. The Free State scenery is in a league of its own, and especially in autumn it's easy to imagine that this province was once called the Orange Free State because of its rich colours.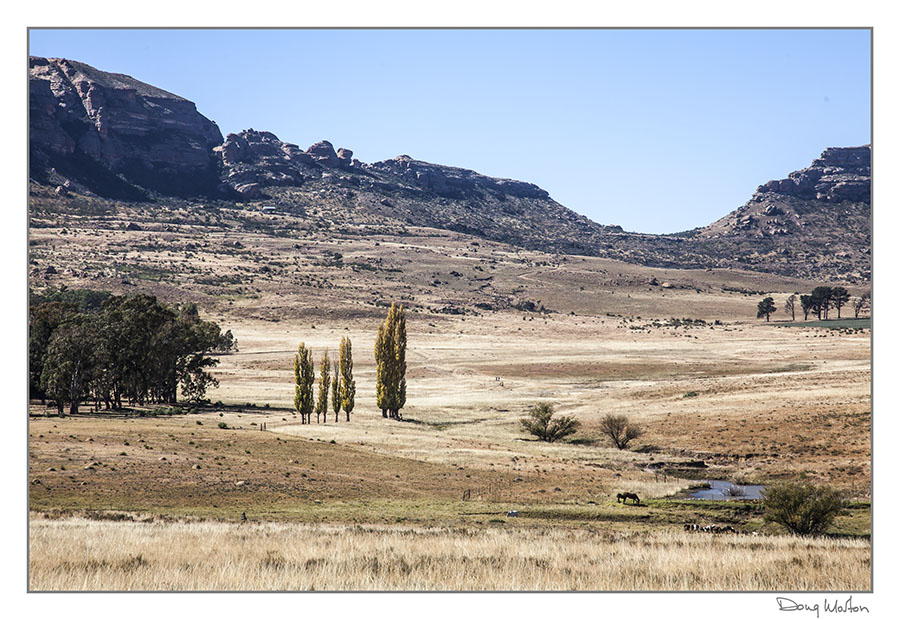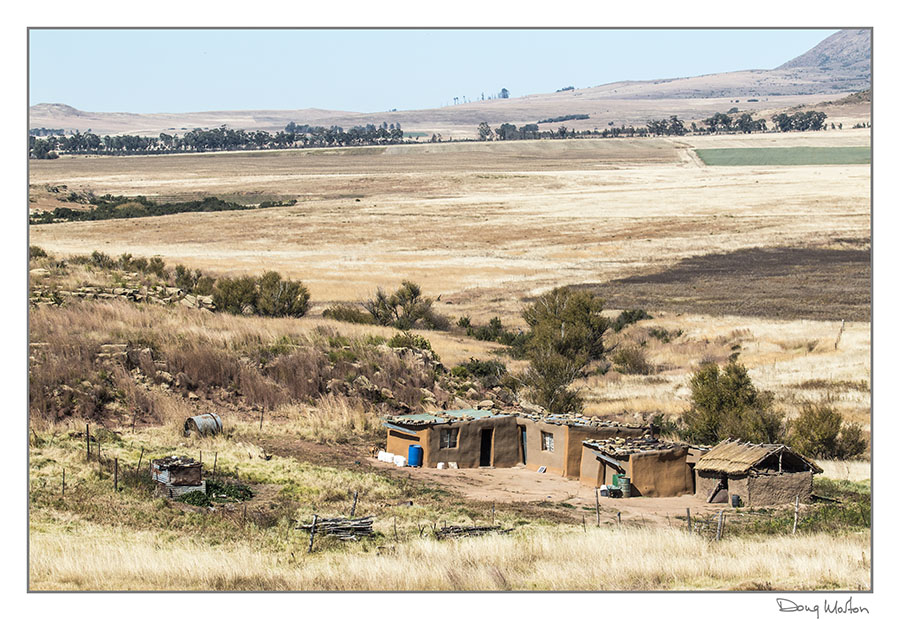 Quite soon we were at Mount Everest and tried to see the inspiration for the name. It still escapes us. There was a moderate variety of game on the grasslands, with a lazy Blesbok giving us the eye, but these donkeys stole the show for me, as the sad beasts always do.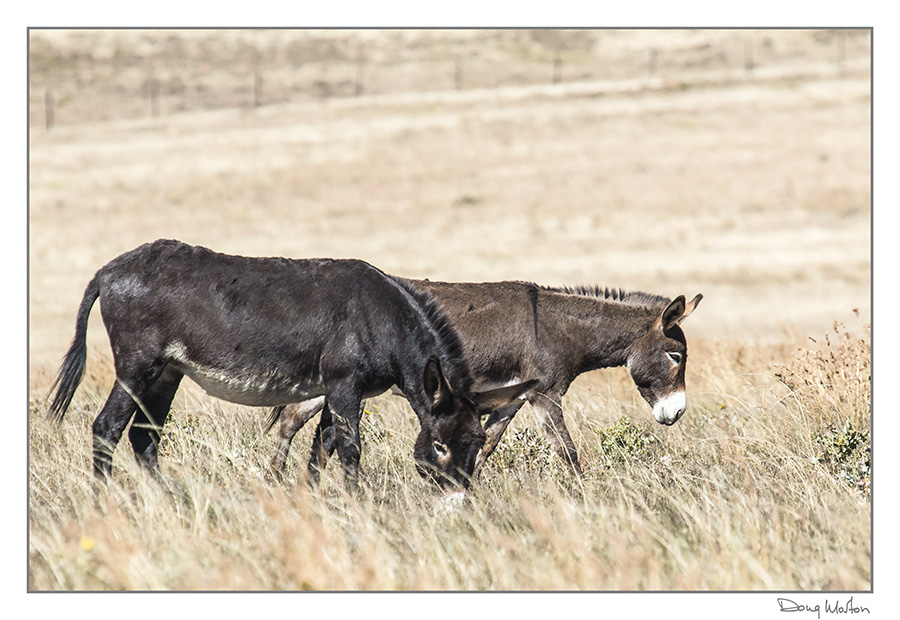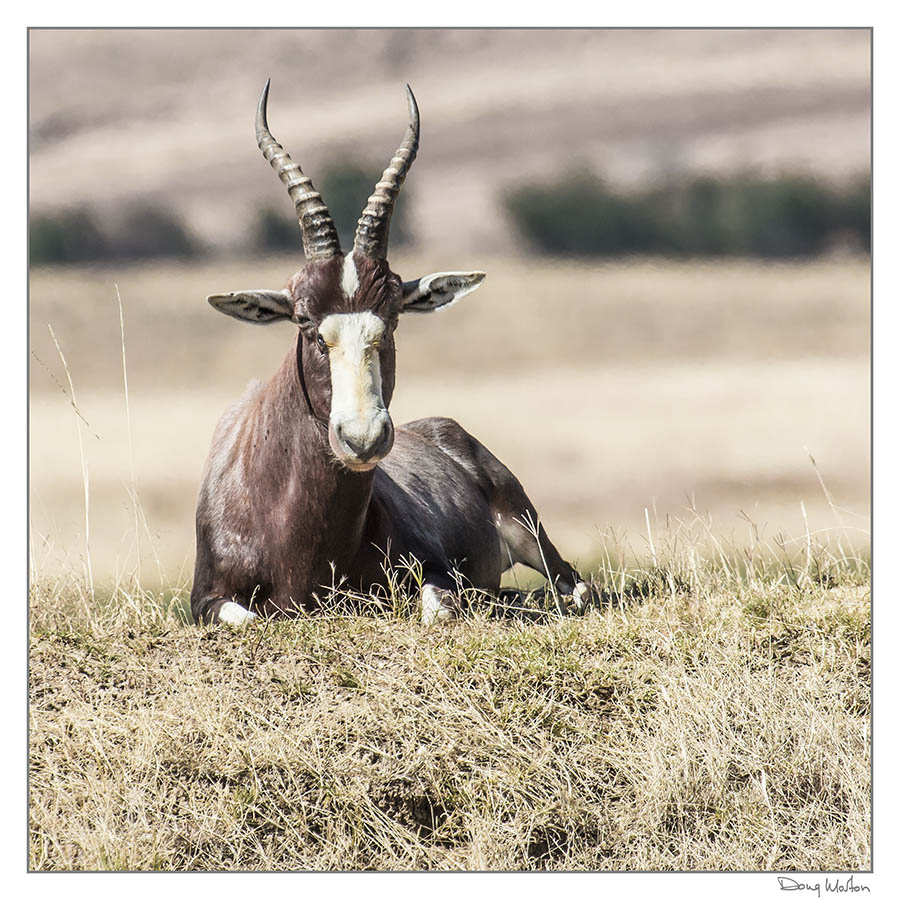 The manager's bakkie didn't seem to have been roadworthy for a while. I think they misunderstood the expression "power plant" in the engine compartment, and the front right wheel rim might have been a contributing factor. However, the vehicle made for an interesting plant pot...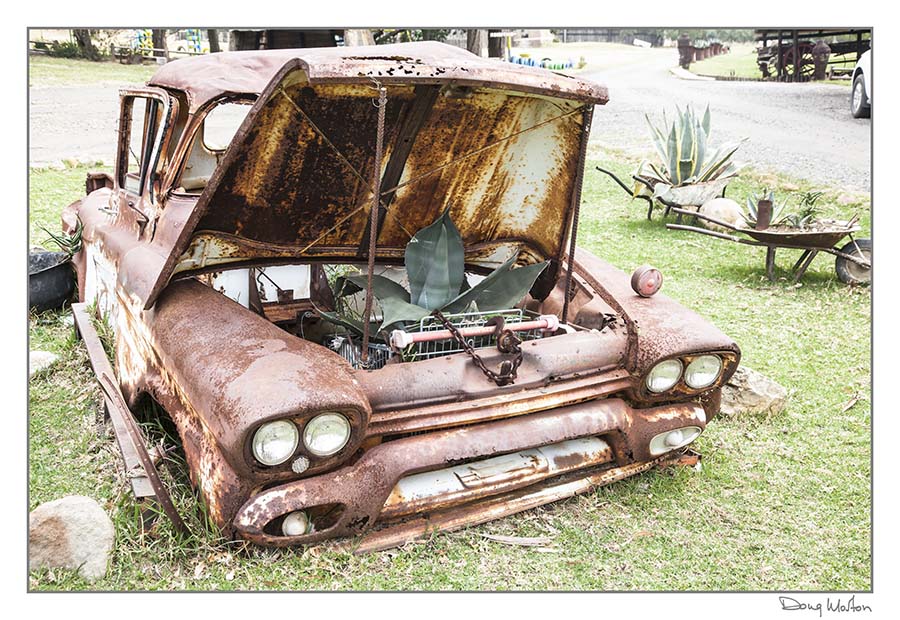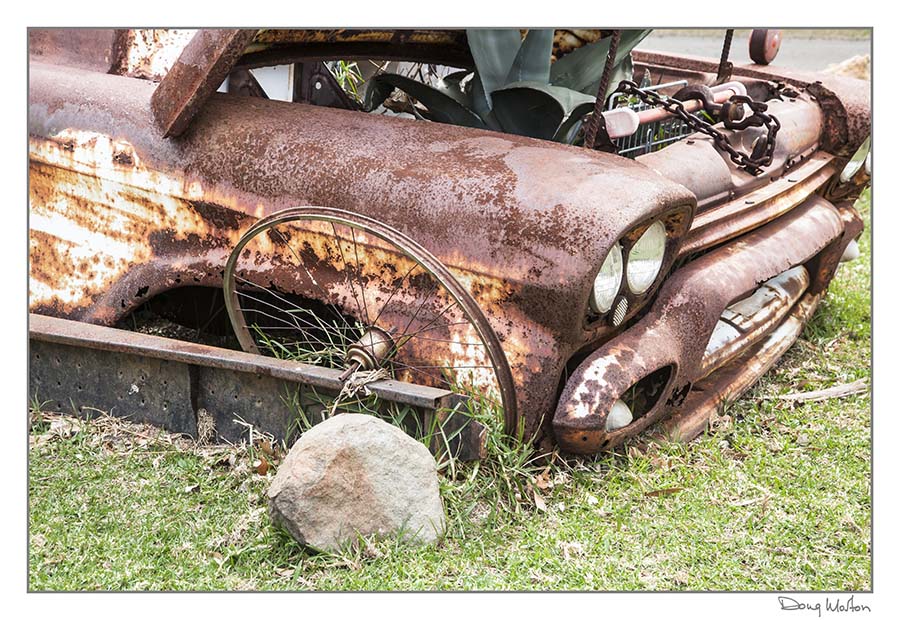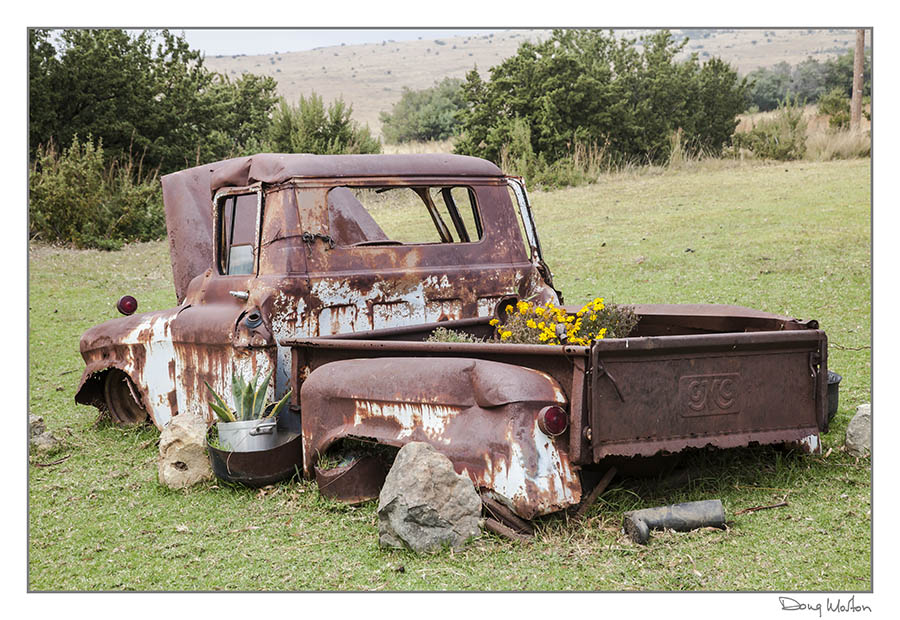 Formalities were few and I was given directions to our chalet, Arendskop. This one did have some credibility. The chalet is perched on a hillside below a huge red sandstone cliff, and off to one side is a peak that, using no imagination, looks like an eagle's head. We were a long way from any other habitation, and savoured the peace as we off-loaded enough groceries for a month.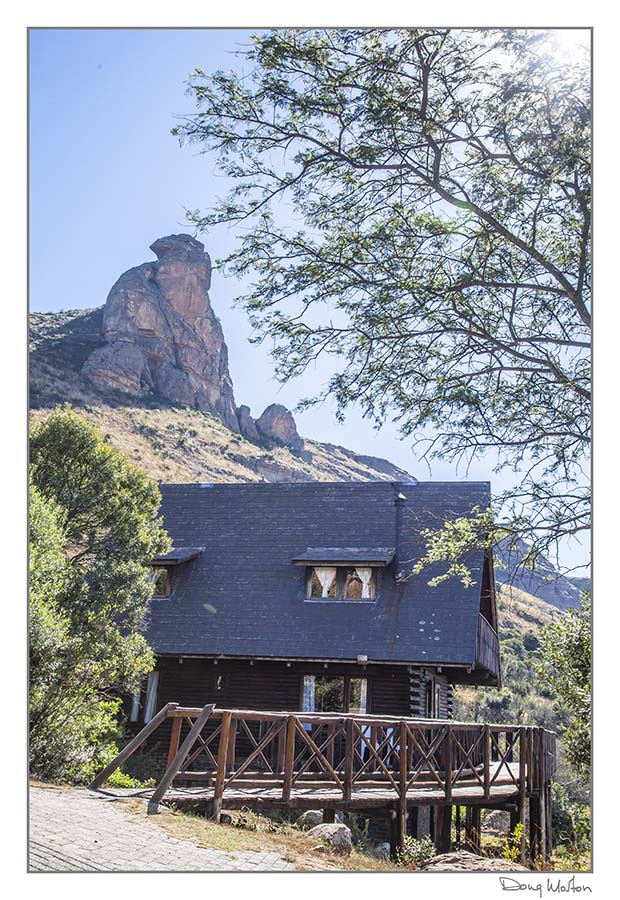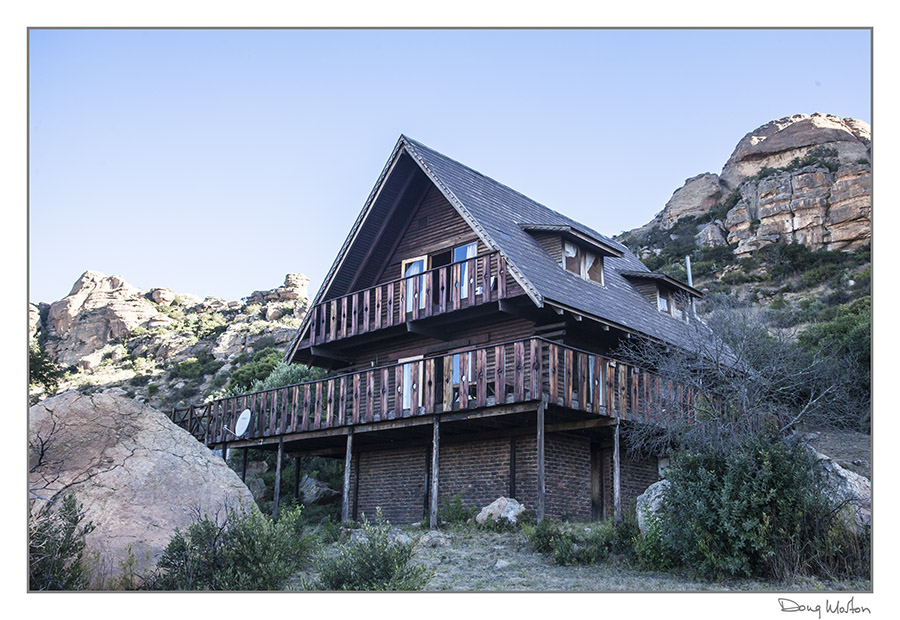 Being the first to arrive, I quickly annexed the only garage for the Pathfinder. The building was designed to combat the accumulation of toxic fuel fumes, and I believe this is a concept that should be widely promoted in urban areas.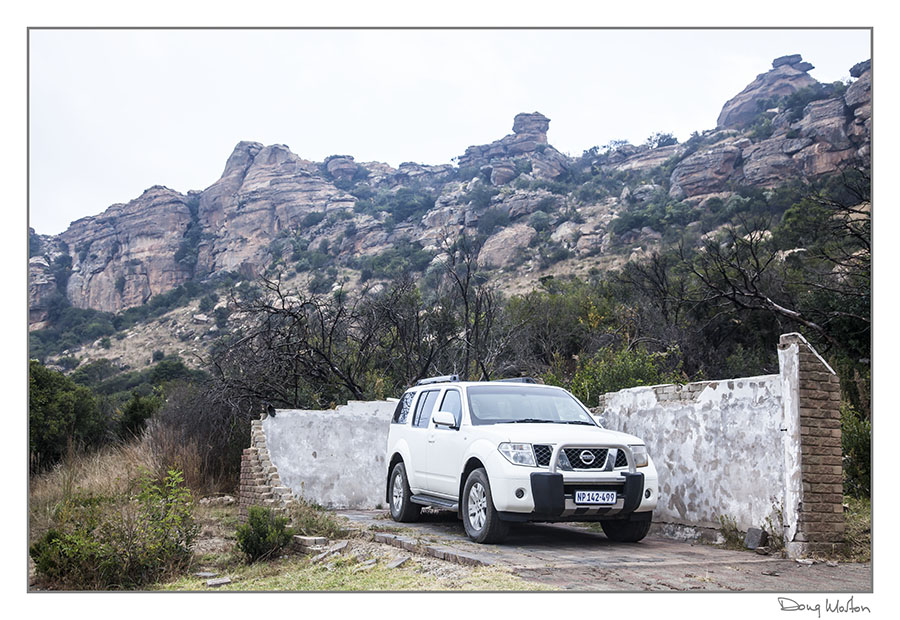 The Free State wind was getting into its stride, and we looked for refuge in the leeward areas. In front of the chalet was a vast grassland plain, sporting all the colours of the newly-arrived winter season. A bowl of sliced biltong and a glass of red wine settled me into an afternoon of watching the play of light on the colours of the canvas before me, ever changing, ever new. Still the wind gusted, but unlike in any town or city, drove not one scrap of litter before it.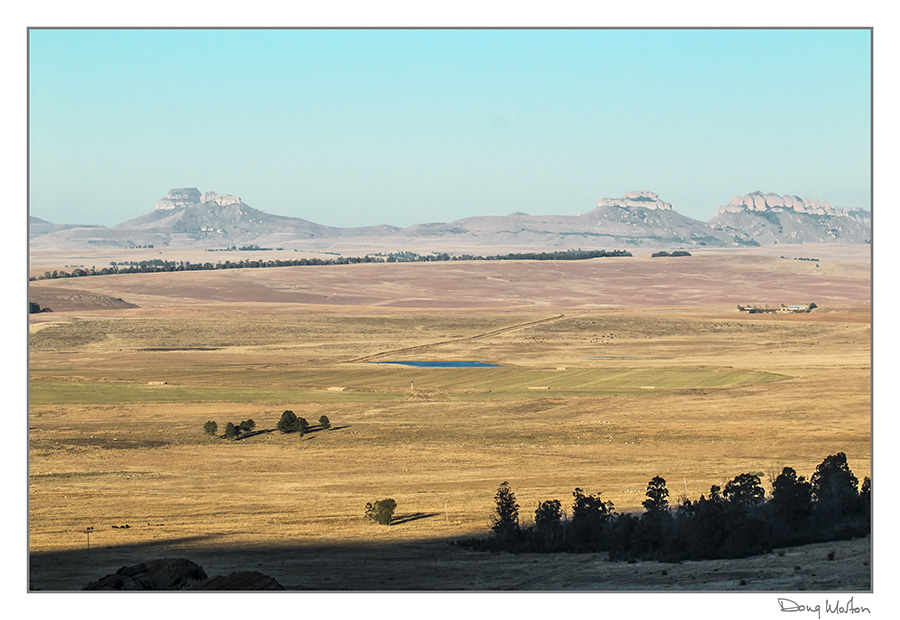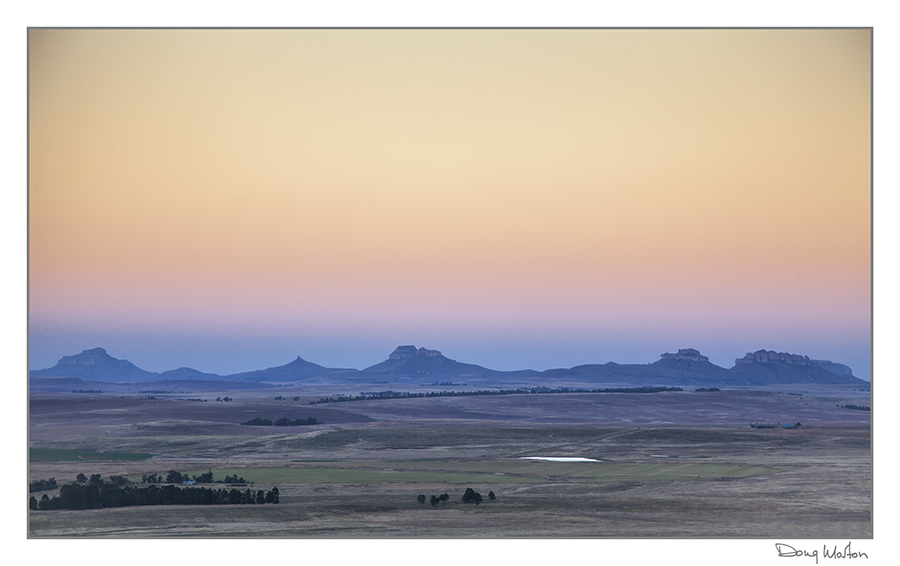 A few hours later the kleinspan arrived and proceeded to unload their month's groceries along with the occasional bag of clothing. It would take a major snowstorm to test our supply of edibles. Soon we'd all settled in and supper was on the menu. The fire in the lounge was lit and blazed merrily, casting dancing shadows upon the walls and ceiling. The timber construction was a good insulator and there was a lazy cosiness as the conversation ranged from family to friends to work to hobbies and eventually to plans for the following day. It was a deeply satisfying evening.

There were always birds to be seen, many common species, but some not seen too often.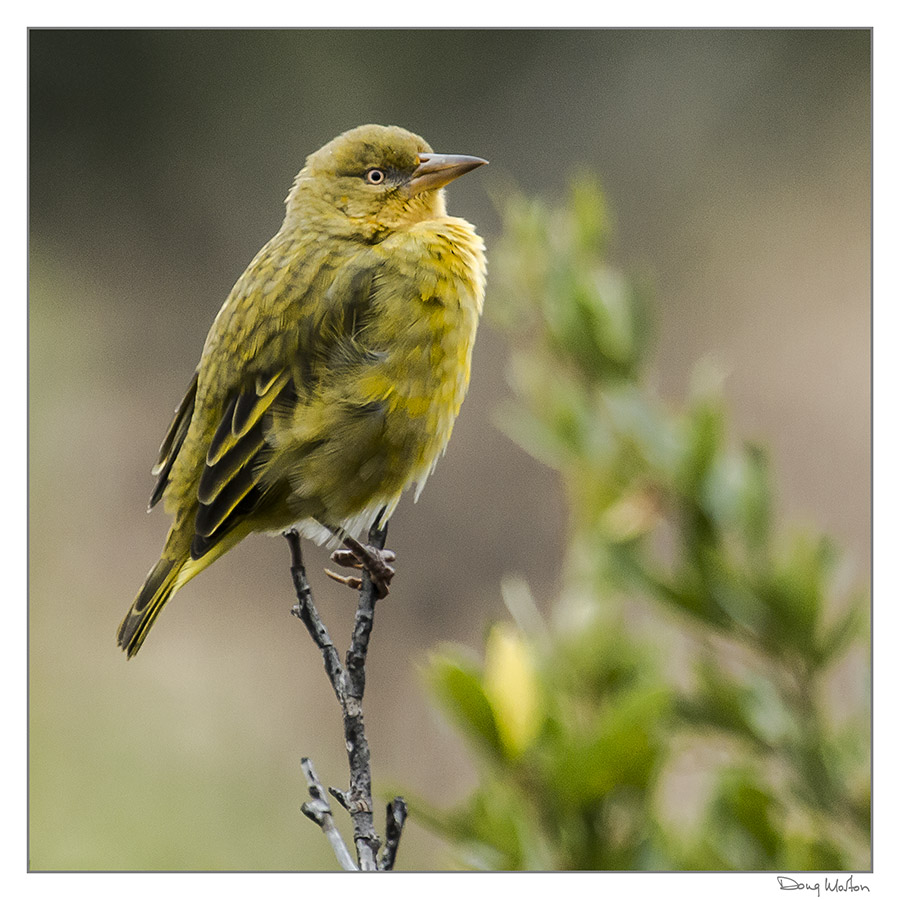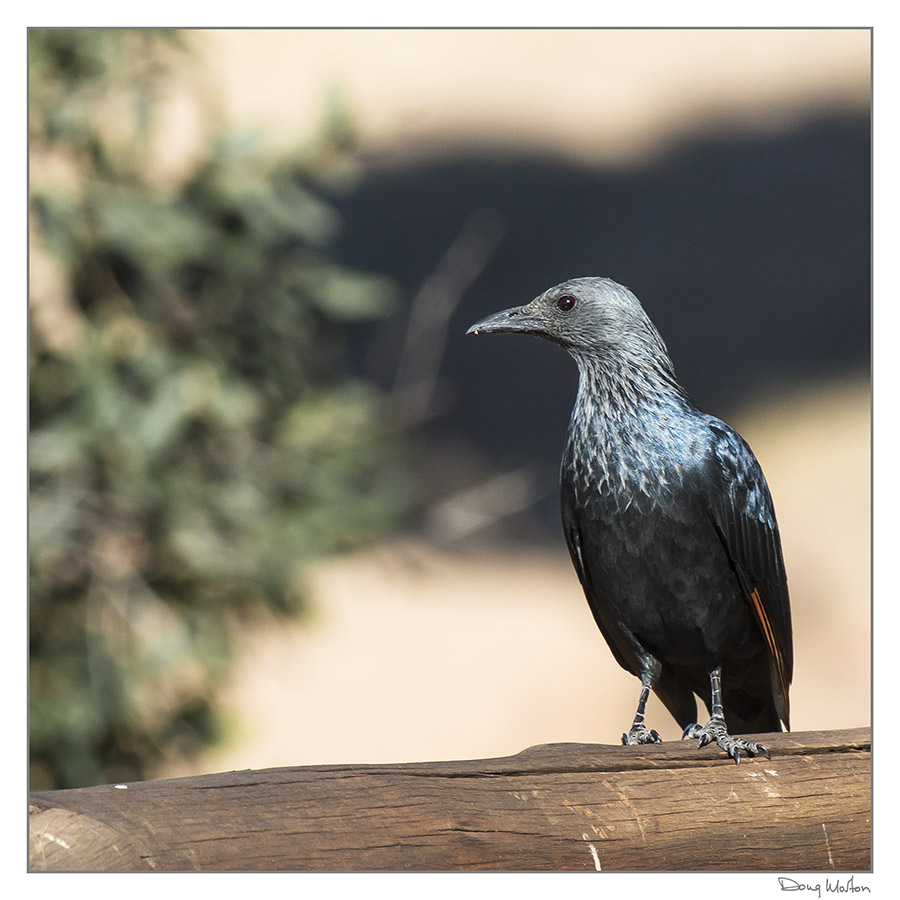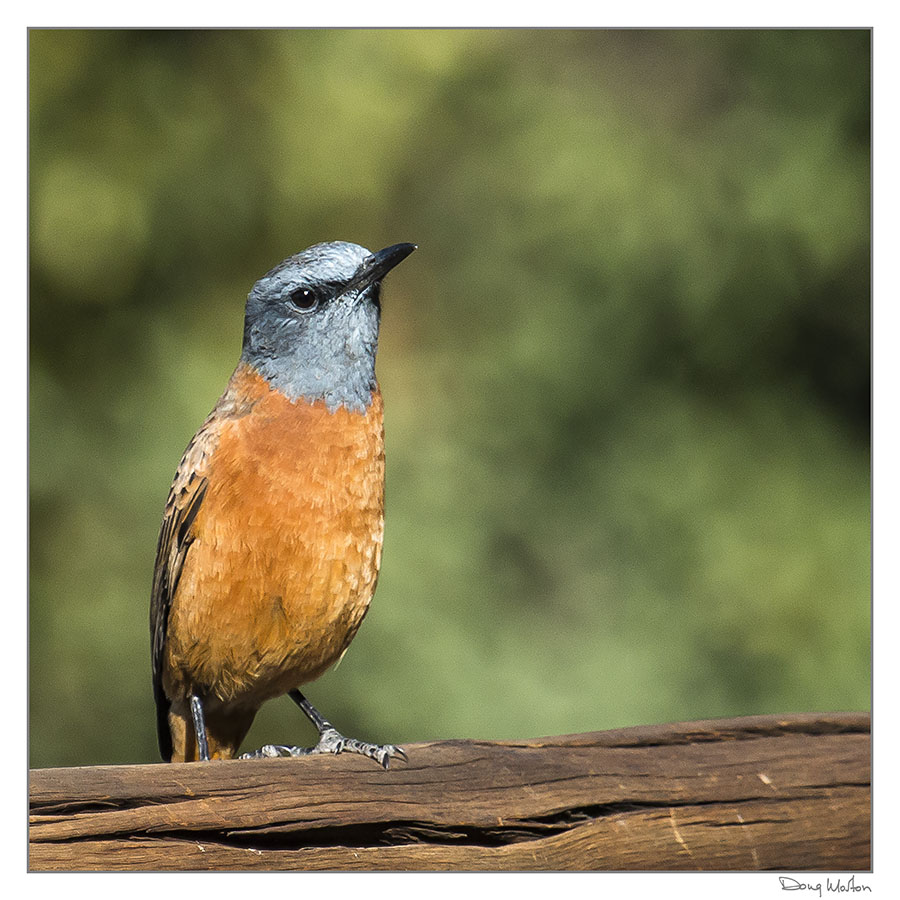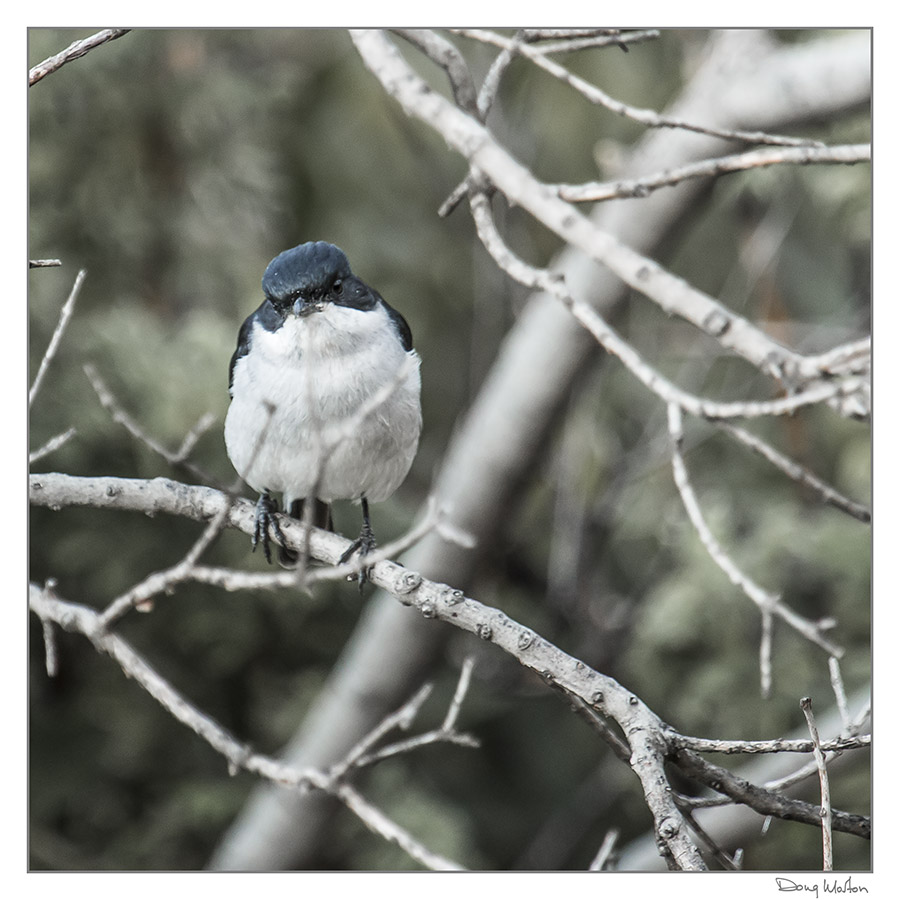 I think I could be forgiven for thinking at about 6.30 next morning that the chalet had been tightly wrapped in cottonwool. Only the deck railing was visible, and that just faintly. The slight breeze shifted the dense mist this way and that, but the rest of the world remained invisible. We had our breakfast in this grey cocoon, and gradually the surrounding trees appeared like pencil sketches on a smudged canvas. We'd decided to drive down to the plain, and the kleinspan went ahead while I searched for photos.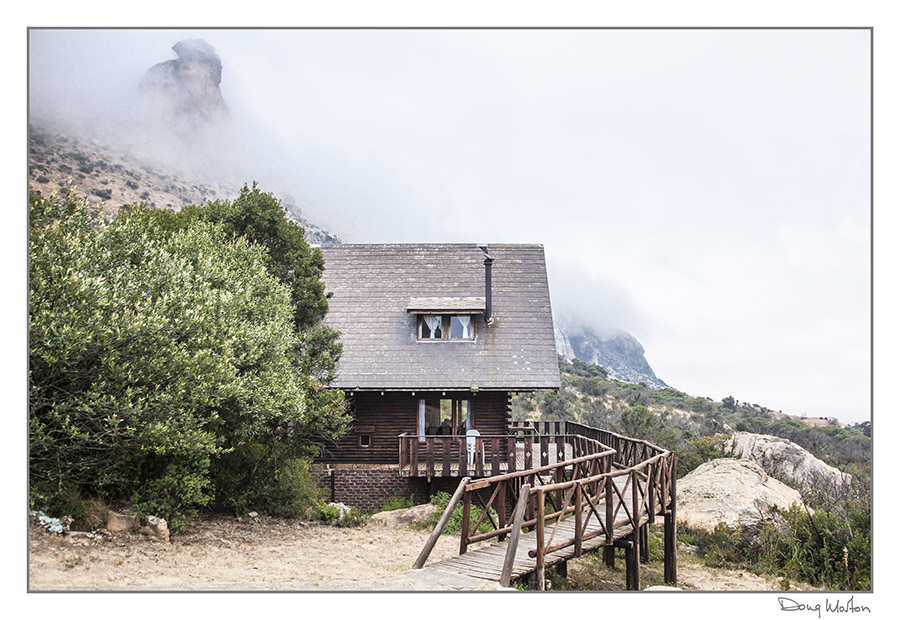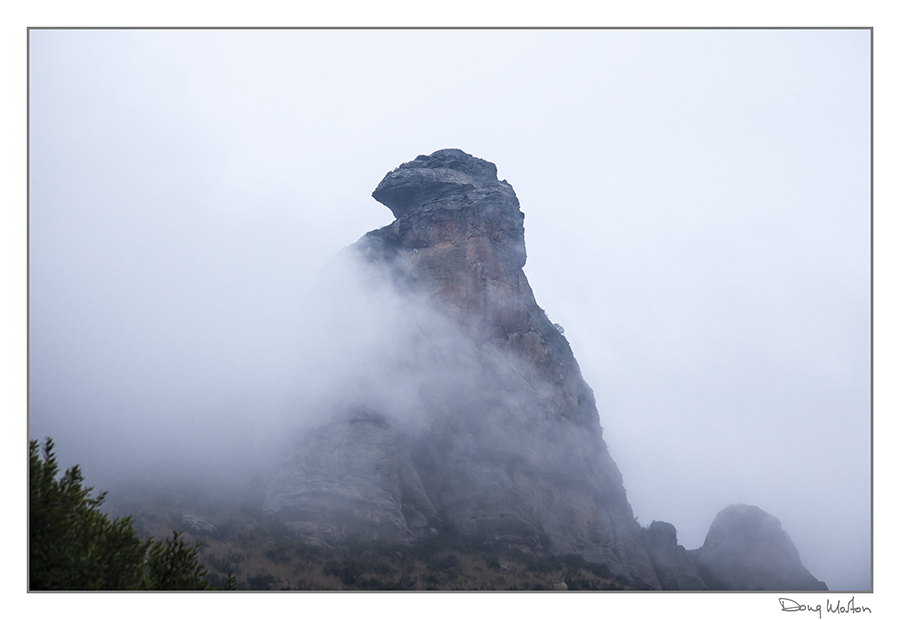 We found a large herd of Black Wildebeest and many Blesbok, and a group of four Fallow Deer. What a surprise. After these delays we caught up with Deryk, Elise and Claire to find Deryk looking very worried as Elise, white as a sheet, clutched a bleeding thumb and Claire wept with fitting sympathy. Car doors are notorious for squashing thumbs. We fed the lady some pain killers and a handful of very sweet winegums, and soon she was ready to carry on.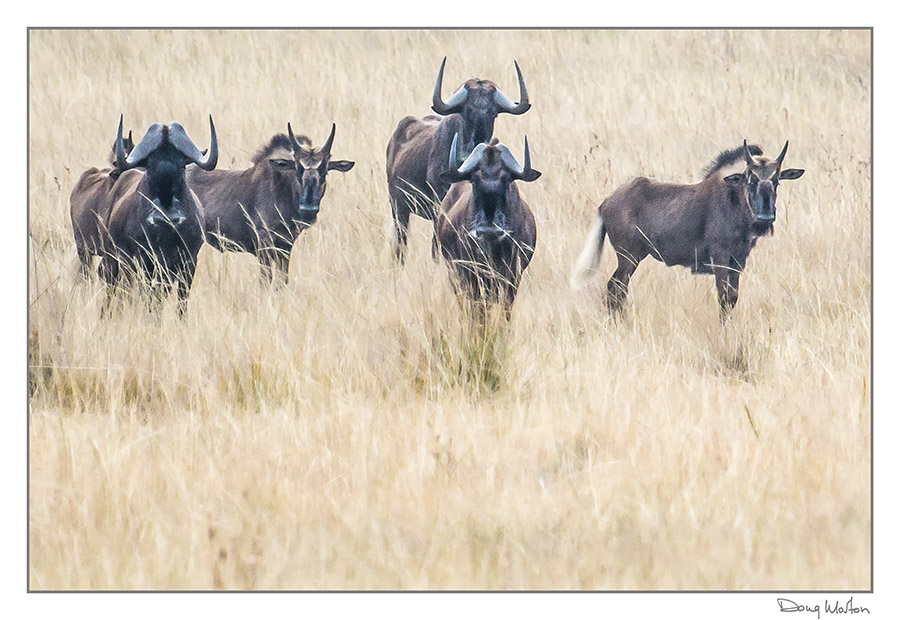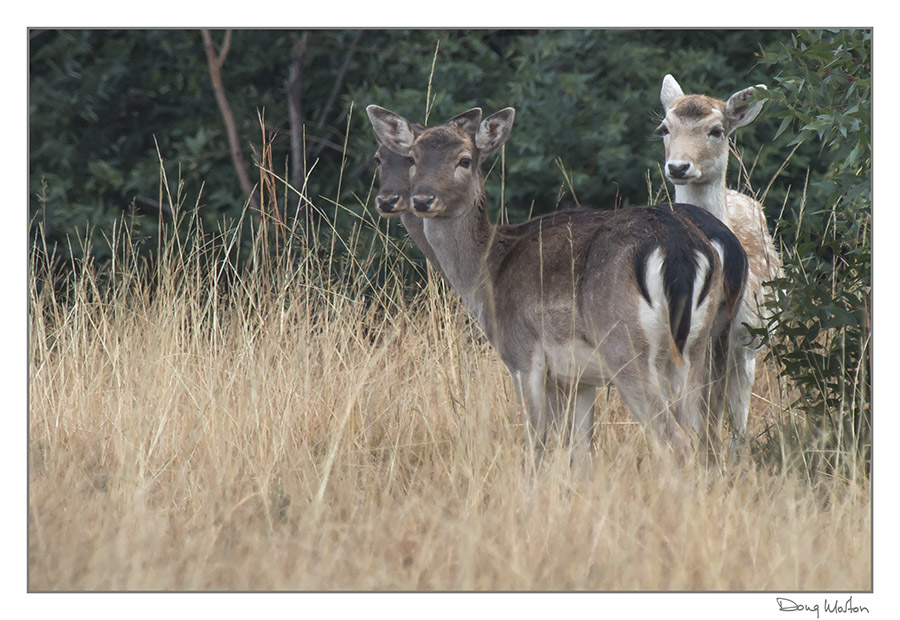 The wind had come back with its friends and whipped around us without respite. The veld grass leaned at an acute angle and our clothes tugged at us as we tried to stand still. Photography was difficult in the high wind and poor light and cameras were little more than ornaments. A group of off-duty horses showed interest in this group of humans braving the elements, some Lechwe appeared and disappeared, and in the distance we spotted a few Springbok and Zebras. Before too long it was time to retreat before the onslaught of nature and repair to the chalet for lunch and refreshments.




Soon afterwards I waddled off down the track to look for photos in the now-improving light while Deryk and Elise made an assault upon the crown of Arendskop. I arrived back at the chalet in time to get some shots of Deryk on the brow of the eagle. By the time they'd returned to civilised levels the braai fire was emitting smoke and sparks, and the sun had disappeared behind the line of sandstone hills behind our chalet. The air cooled again, and soon another fire was happily warming us in the lounge. There was some talk of the morrow, but bed called early.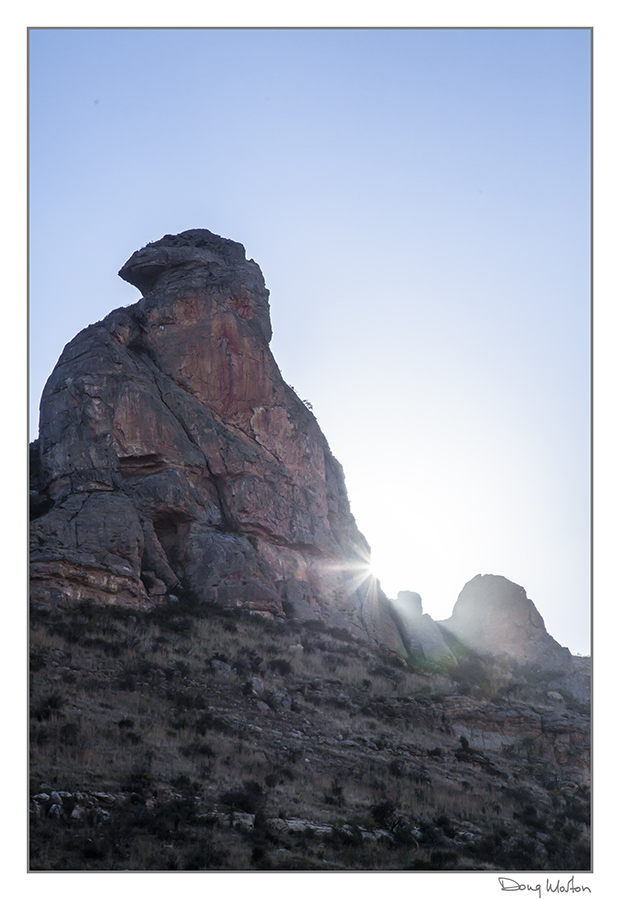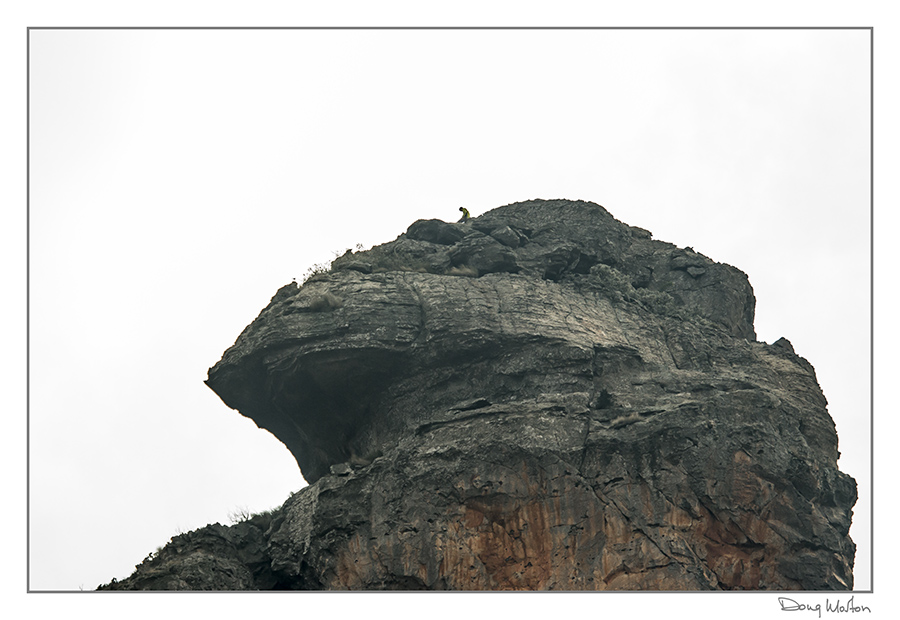 The next morning the cottonwool had returned and I wasn't too happy about the prospects of driving down van Reenen's Pass in heavy mist. We left early as the mist lifted and found just wisps of mist on the pass. It had been a good weekend with good people and a wonderful experience of a new place. We'll be back there before too long.